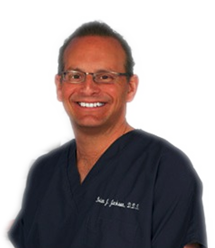 Dr. Jackson's "Synergy2" process is an innovative implant approach where patients require less surgery, less appointments, less costs and a faster completion of treatment. Dr. Jackson's comprehensive "Synergy2" process marries several stages of treatment into a single visit. Thereby, eliminating the need to see multiple dentists. The "Synergy2" process utilizes Dr. Jackson's comprehensive clinical experience and knowledge in biology, surgery and prosthetics (crowns, bridges, dentures) to create a healthy esthetic and long lasting smile.
What is the "Synergy2" process?
Appointment 1
Tooth extraction

Immediate implant placement

Guided bone regeneration (GBR)

Platelet rich plasma (PRP) and platelet rich fibrin (PRF)

PRF biologic barrier

Final prosthetic impression

Temporary abutment/crown
Appointment 2
Remove temporary post/crown

Place final abutment/crown
Before and After photos
"Better results thru the synergy of biology and clinical experience".