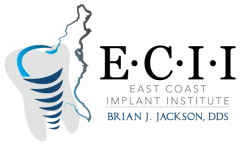 690-Implant Complications
Diagnosis, Prevention and Treatment to Enhance Long Term Outcomes
FULL DAY COMPLICATIONS SEMINAR
Presentation by: Dr. Brian J. Jackson, DDS, Diplomate- ABOI/ID Fellow- AAID
Overview
2 Million dental implants are placed annually throughout the
world and an exponential number have been placed in the past
40 years. As a result, all clinicians are faced with the
responsibility in the management of simple to complex
complications in daily practice. This program will discuss and
present the evidence supporting implant failures and provide an
understanding for diagnosis, treatment planning, and treatment
as the basis for long term positive outcomes.
Objectives
IMPLANT FAILURES
Understand the research associated with implant failures.
PROTOCOLS
Learn step by step procedures to treat complications.
TREATMENT STRATEGIES
Comprehend treatment strategies associated with prosthetic and
surgical procedures.
"THE SPECIFICS"
Bone, biomechanics, regions of the mouth and prosthetic
materials.
Friday, September 25th, 2020
Tuition $1,100.00 (After July 25th)
Early Bird Discount $995.00 (Before July 25th)
8:30am-5pm
Turning Stone Casino and Resort
5218 Patrick Rd Vernon, NY 13478
8 CE CREDITS